Materials:
1 - Layer Cake (Flirt by Sandy Gervais)
1.75 yds. - Background fabric (Above is an assortment of white on white prints & creams)
When I saw the heart block tutorial I immediately pulled the layer cake of Flirt, and thought this is perfect. This quilt only uses the materials listed above. Yes, this layer cakes goes the distance! Here are the directions so you too can make your own ...
Directions:
Step 1: Choose 16 prints to make the hearts, then follow the 9 inch block directions @ Cluck Cluck Sew. You will need 4 - 5 inch strips to subcut into 5 inch charms (32 in total) and 3 - 1.75 inch strips subcut into 1.75 squares (66 in total). **Sew another line a half inch from the center line to get 2 more HSTs from each heart. Image below shows the lines sewn on each block. At the end you should have 16 hearts, and 32 HSTs (square them to 4 inches and put aside).
Step 2: Cut remaining background fabric into 12 - 2.5 inch strips for sashing around each block. Subcut 20 - 9.5 inch strips for either side of the blocks. Arrange your blocks in a 4 x 4 pattern. Start by sewing the 9.5 inch sashing on the left/right side of each block to create 4 rows. Place sashing on the top/bottom of each row and sew rows together. There should be some sashing left over, this will be used on the back. Now, the top is complete!
Step 3: Pick 20 of the remaining prints to be used on the back, sew them together in rows of 5. Now, take all the extra HSTs and sew them together anyway you desire to create a 2 x 14 row. (I just used a pinwheel pattern.) Next, sash either side of the HST row with the remaining sashing. Sew the 4 rows to the HST row to complete the back. Warning: the back isn't much bigger than the front, so be very careful basting!
Step 4: Take the remaining 6 prints and cut them into 4 - 2.5 inch strips. ** All 42 squares should be used by now! ** Sew the strips together end to end, to create the binding. All the strips together will be enough to wrap around the quilt. You could also substitute yardage if you are worried about that many seams. Iron binding in half lengthwise.
Step 5: Make the quilt sandwich, however you prefer. Once again, be careful when basting the backing and the front are almost the same size (only 1 - 2 inches of overhang). Quilt as desired (I used a stipple pattern), and sew on the binding. Personally, I like the look of hand-stitched binding, but machine binding is quicker. The quilt is now done :)
If you have any questions let me know!! This is a great way to use up a whole layer cake that just might be laying around :) No need to fuss with backing and binding either, it's all included! Also check out Alison's other
tutorials
, I am an huge fan of the star block.
Quilt Stats:
Finished Size: 45 inches x 45 inches

Pattern: Heart Block Tutorial

Fabric: Flirt by Sandy Gervais, assorted whites/creams

Batting: Warm & Natural - white

Thread: Connecting Threads - light pink
Today I am linking up with Stephanie and Michelle at
Late Night Quilter
, she is starting Tips and Tutorials Tuesday. If you have any tips or tutorials that are worth sharing link up, she is offering prizes each week for the first month!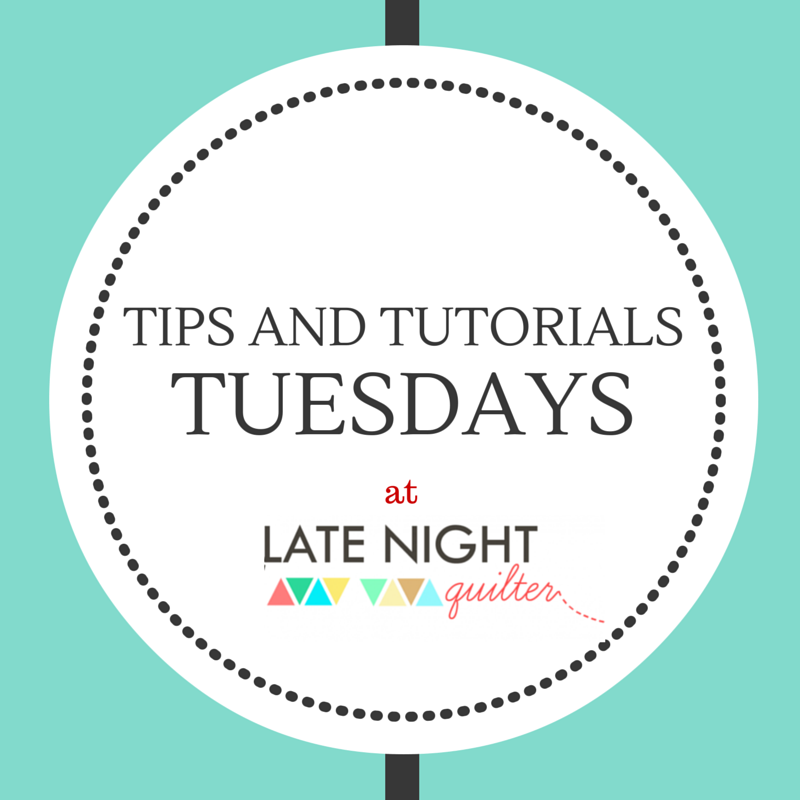 -Patch & Chels